Used Boats:
25
Adverts Displaying:
1
-
10

This lavish superyacht features a gorgeous exterior design by Tim Heywood and an elegant interior by the renowned Winch Design team. Amels has mastered their craft in the Limited Editions concepts of their fleet. Her athletic exterior is well proportioned and gives this fine superyacht a look that is both timeless yet refreshing - this is Tim Heywood Design at their very best. Inside, your breath is taken away by the expansive interior with a very functional yet gorgeous design meant to bring your family and friends together comfortably for extended periods of time. Her interior is...
read more
Year:
2016
Length:
241' 2"
Location:
Florida USA
Price:
€94,900,000

View Details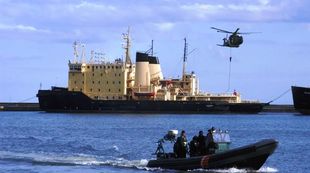 Delivery in Northern Atlantic with all certificates valid € 12.775.000. + 5% brokerage fee payable by buyer. Speed: economy 12 knots/max 16 knots Vessel is also prepared for helipad 9/14/2018 can confirm the 'vessel' is still for sale, and for a school project she would be perfect. Having a very large wheel house to accommodate more than 50 people at the time. With only abt. 9.000 hours running on everything the ship has been well cared for, she is looking brand new....
read more
Year:
1980
Length:
67.55m
Location:
USA
Price:
€12,775,000

View Details
A renowned world-class cruiser and one of the most well-travelled yachts in the global fleet, the 126m (414ft) OCTOPUS is the pinnacle explorer yacht for those seeking a proven platform to view some of the globe's most remote and inaccessible locations. With accommodation for up to 26 guests in 13 cabins, and 63 crew across 30 cabins, OCTOPUS has been a trusted, full capability vehicle for discovery to those on board and has a range of accolades to prove it. Since delivery by Lürssen at HDW Kiel in 2003, to exteriors by Espen Oeino and interiors by Jonathan Quinn Barnett, she ha...
read more
Year:
2003
Length:
414'
Location:
France
Price:
$332,721,000

View Details
Keel laid: 30 May 1977 Delivered: 1 June 1979 July 31st. 2019 SHIP REMAINS AVAILABLE FOR IMMEDIATE PURCHASE...
read more
The Vessel is a three-story casino cruise ship built in Florida. The vessel is 175-feet long and weighs over 1,300 tons. Over the years, the cruise ship has undergone changes. The lower levels of the vessel are reserved for gambling, and the top-level featured an open deck for sightseeing, as well as a restaurant. The Vessel had dozens of gaming tables, and 200 poker machines are spread out across 6,000 square feet. Casino cruise ships offer passengers a unique opportunity to gamble at sea, where they are free of any federal regulations. According to U.S. law, passengers can legally g...
read more
Year:
1977
Length:
173' 8"
Location:
Florida USA
Price:
$1,780,000

View Details
Classic Restored/Rebuilt/Refit Steam-Driven Dinner Cruise Vessel 600 seating. This vessel is a great venue for: Events, Concerts, Corp. Parties, etc. "Unforgettable" "Impressive" "Royal" are a few of the guests comments! For six years, specialists have worked on the restoration of the formal showpiece of the river Rhine. It took a lot of work. With traditional methods and techniques (among others authentic riveters), the result is 'just like back in the day'. Or even better, because the modern facilities like the climate control and aud...
read more
Year:
1926
Length:
82m
Location:
Netherlands
Price:
€950,000

View Details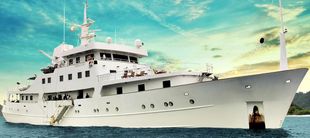 The Vessel was lavishly outfitted with Carrara Marble throughout, including the Lounge and Dining rooms on the Main Deck. The Vessel could be used as Boutique Cruise Ship and/or Family Yacht. In 2017 The vessel has been through an extensive refit including the overhaul of both Main Engines. Installation of 2 new 470 kW Generators, 2 new water makers and completely overhauled Air-conditioning System. The Bridge is loaded with Navigation and Communication equipment and routinely updated. She is fitted with a Refrigeration room, Air-conditioning room, workshop with tools + workbe...
read more
All Aluminum Multi-Purpose Tour Boat with 400 Passenger Capacity and Cummins Diesels. Vessel is well maintained and under U.S.C.G. inspection and required haul-outs per regulations. 2 year and 5 year inspections. For Sale or available for Charter Trades Considered- Prefer Shallow Draft Vessels 6 ft or less From a business stand point, this boat is a turnkey money maker, capable of many jobs: Ferry- 400 passenger capacity, Economical 50 GPH Cruise Dinner Cruise- Onboard Kitchen Area and Dish-washing, Quiet Tour Boat- PA System, comfy seats, all weather ability Whale Watchin...
read more
Year:
1986
Length:
110'
Location:
New Jersey USA
Price:
$2,350,000

View Details
For direct buyer interest with established operations background and funded. Please provide company details. This cruise ship operates cruises around the Mediterranean Sea. In Class: RINA The ship that eventually became known as originally one of two ships ordered by the United States-based Overseas National Airways. Unusually Hugh Hefner, the founder of Playboy, was involved in the design process of the ships, envisioning them as "floating Playboy Clubs" Designed with a heavily raked bow and a tapering stern. She has a low superstructure that extends slightly outward ...
read more
The ship is now 2020 completing another Refit. Creating greater comfort and 5 star + amenities for charterers. (New Photos coming for serious buyer) The price will include 100% company shares, completely clean and legal ltd company Adriatic Sea which has just the vessel as asset owned, with two years of sailing contract based on 25 weeks of operations or more. (Due to the Pandemic the full 25 weeks charterers may not be complete) A ship or your private Yacht! Outstanding as a Family Expedition Vessel! This vessel is on high m...
read more
Year:
1976
Length:
39.74m
Location:
Croatia
Price:
€3,210,000

View Details