Used Boats:
25
Adverts Displaying:
1
-
10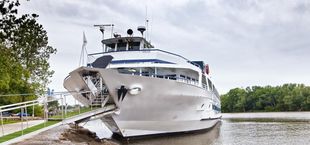 January 11th/18 OWNER JUST REDUCED THE OFFER BY 1 MIL. USD. This Boutique / Expedition Cruise Ship has vista-view wrap around windows in the dining room and lounge for the best daytime sightseeing in canals and other inland waterways. The Ship is equipped with a unique, retractable pilothouse for passage under low bridges on inland waterways. Extendable bow ramp, together with the shallow draft, makes it possible to cruise right up to beaches or into hard-to-reach destinations so that passengers can disembark directly on shore. Separate cabin air-conditioning ducting with push button ...
read more
Year:
1994
Length:
177' 3"
Location:
Rhode Island USA
Price:
$2,100,000

View Details
Delivery date about; One-year, Euro 50 Million is completed Listed date: 10/09/2020 The ship is under construction it is not a bank owned repo. The current owner has offered simply an opportunity to SWB and a new owner. Additional information coming shortly register now with our office with your full company details, first come first served. Serious interest only please....
read more
Year:
2020
Length:
110m
Location:
Croatia
Price:
€50,000,000

View Details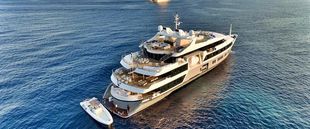 International 5 Star small passenger Vessel. The yacht photos here reveals a vessel of distinction, where careful thought was placed into every detail on board. With an LOA of 236.2ft / 72m, the interior design is by Askdeco, with exterior styling by Luiz De Basto. The yacht accommodates 30 guests in 16 staterooms, which are each appointed with the best in comfort and entertainment. Explore this top of the line yacht, built by luxury yacht builder Austal, where meticulous work and creativity come together to create a floating sanctuary. Located in: Southern Europe. The Yacht be...
read more
Year:
2003
Length:
72m
Location:
Greece
Price:
$50,000,000

View Details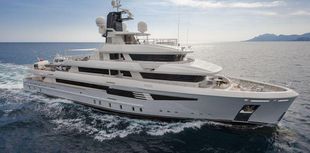 A dynamic and powerful expedition vessel 5 years in the making, Explorer is a once-in-a-lifetime superyacht. Built to meet her experienced owner's exacting standards, this intrepid 49.75m yacht was designed for uncompromising adventure. Setting the standard for the new generation of expedition yachts, Explorer's robust exterior is more than matched by her sophisticated interior. Created by renowned designer to match her owner's vision of the ultimate explorer yacht, Explorer has a wealth of onboard amenities. Her strong profile and clean lines are highlighted by a b...
read more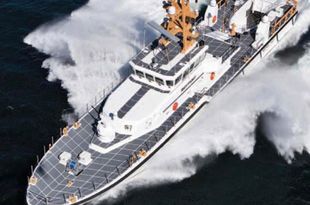 READY FOR DELIVERY, NO WAIT TIME...........! Littoral & Offshore Security and Patrol The Composite 43M Cutter has a speed of 30 knots. At 15-knots, it has a range of 2100 nautical miles (nm). Although this vessel was primarily designed to withstand sea conditions classified as Sea State 4, it can withstand Sea State 6 conditions. The Cutter is fitted with a dampening material to reduce the noise levels within the ship as well as the vibration. The superior cooling and heating qualities the ship possesses are due to the composite insulating material used. In addition, to mi...
read more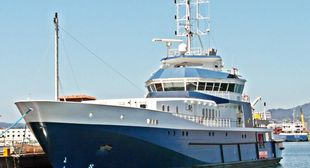 This vessel was developed for the Danish Directorate of Fisheries, but they never pick it up. It was constructed in 2010 and never used. The cost of this vessel was 18MM€, As is New Construction. A vessel that is specially prepared both for the fight against pollution and as maritime rescue and control of fishing bank areas. It was initially built In the extinct Cíes shipyards that were located in the Teis area but due to economic problems, the continuation and completion of the ship had to be negotiated in Francisco Cardama de Vigo Shipyards and dry docks. The ship has been...
read more
Year:
2010
Length:
225' 4"
Location:
Spain
Price:
€8,500,000

View Details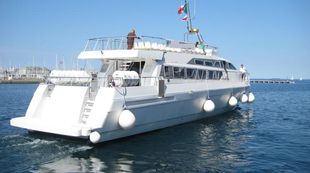 Day Passenger ship , Yacht style Built by Andrea Boschetti , Italy / Hull from Yacht Mondomarine 150 PAX Certificate, 102 PAX in Salon, 48 on open Flybridge LOA: 28m Beam: 6m Year: 2011 Class: RINA Flag: Italy...
read more
Her keel was laid 1st May 2008. She was launched 27th May 2010 and delivered 9th January 2011. The original Builders Certificate was issued 30th June 2010, and notarised 9th July 2010. The yacht was not registered and used until 2012 by her first owner This four-deck custom yacht from the famous Dutch shipyard was built in 2010 and once again confirms Heesen's leading positions in the superyacht industry. The exterior of this 45-meter aluminum vessel with sleek hull lines and multi-size windows is elegant and recognizable. On the initiative of the present (2nd) owner all i...
read more
Year:
2010
Length:
44.77m
Location:
Croatia
Price:
€14,850,000

View Details
Facility is USA, Gulf Coast. Check our other listings for the two Trinity Yachts to be completed, we can in addition to the two yachts offer the Name at additional cost. EFFECTIVE DATES OF THE VALUE ESTIMATES: March 18, 2014 FINAL MARKET VALUE ESTIMATE: Building Improvements $47,900,000 Site Improvements $12,400,000 Land Value $9,000,000 Total Market Value of the Real Estate $69,300,000 Add: Fixed Equipment $2,200,000 Moveable Eq...
read more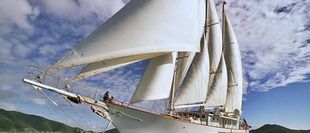 The Yacht Is a stunning 157-foot mega yacht. She features three masts with a staysail schooner rigging. The ship, built in 1983 as Centurion for actress Kelly McGillis, was re-launched in 2001 after a three-year overhaul by its current owner. It was a massive do-over that resulted in 60 additional feet, a third mast and 20 cabins. Today, the Yacht is a graceful vessel that clearly attracts people who are in it for the sail. She has teak decks, a Jacuzzi, cushioned sun deck as well as a covered aft veranda. Her main salon is spacious and can offer a seated dinner for up to 48 gue...
read more
Year:
1983
Length:
156' 8"
Location:
USA
Price:
$4,500,000

View Details